Market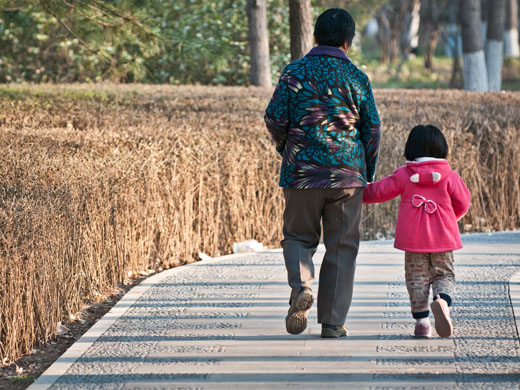 China's middle-aged and senior citizens present the most exciting growth opportunities in coming decades for consumer firms, and they are likely to be a valuable presence in future workforces.
At a recent China CEO Forum briefing, Clint Laurent of Global Demographics, asserted that companies need to 'rethink the assumption that youth brands are going to have a future here, and that China is young.'   Accepting "conventional wisdoms" about China's population have the potential to derail corporate strategies.  Some of these myths include:
Myth 1: The youth market offers the best opportunity for growth
China's population mix is shifting with the growing numbers of middle aged and elderly.  As China's population growth slows, the older age groups (45-64 and 65+) are increasing in size, both proportionally and absolutely, while the younger age groups are becoming proportionally smaller.  By 2029, China will have fewer births than deaths and the population will begin to decline.  From now until then, China will experience little or no increase in population.
Myth 2: Population growth will rebound with the introduction of the new two-child policy
As a result of the new two-child policy, there will be a small baby boom in the next few years (the first child must be at least two years old before a second is permitted), but this will taper off as the number of women of childbearing age starts to decline.  China's two-child policy will not stop the population decline and by 2036, the kids market in China will be smaller than it is today.
Myth 3: Middle-aged Chinese have little discretionary income and are not a significant market
Chinese 'empty nesters' (those aged 45 to 64) are the new youth market: they are growing in absolute numbers faster than any other age group and have discretionary income to spend.  They already have many of the goods they need, so they spend their yuan on experiences, such as travel and wellness.  Having lived through rapid changes in their 20s and 30s, they are less conservative than their peers in neighbouring countries and are looking for what is new.
Myth 4: The growth of China's senior population will be a drain on the economy
By 2036, one in four people in China will be over the age of 65, and 80% of them will be living in cities.  Chinese urban areas will be full of seniors and, increasingly, they will be working.  As people live longer, they seek to lead productive lives and are likely to work into their retirement years.  They may earn less than pre-retirement, yet are able to take home more by augmenting their pensions
IMA Asia members can read more in-depth highlights from the discussion via login.
Learn more about IMA Asia's memberships here or contact us.