Market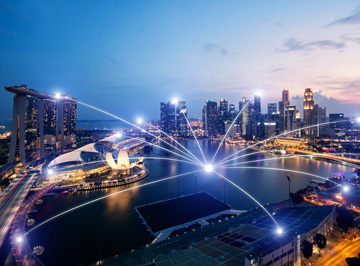 Cities in Southeast Asia are getting 'smarter' and their higher IQ is driving new business for many companies in the region.  Adoption of smart cities technology will boost economic growth and make cities more liveable in the region. Ride-hailing, ride-sharing, food delivery, and personal care on demand already are helping people cope with traffic-clogged streets. Investment in transport infrastructure (e.g., mass rapid transit systems, high-speed rail to satellite cities, and traffic monitoring and control systems) will create business for transport equipment, engineering and construction firms.
The smart city concept covers a lot of ground.  Advocates sometimes view smart cities as a panacea for a host of modern-day urban ills. These include traffic congestion, pollution, overcrowding and declining liveability of urban areas. Singapore's Economic Development Board defines smart cities as 'cities that leverage data and technology to deliver services and improve the well-being of citizens while staying sustainable. They address challenges and make improvements to important functional segments of a city through a network of connectivity across systems, devices and objects (known as the Internet of Things).'
Smart city technologies already have improved one food & beverage company's market research efforts. 'Over the last five years the availability of microdata has increased in Southeast Asia is. Yesterday, all of our market data was based only on our own data. Now, what differentiates a smart city from a not-so-smart city is the availability of rich data. In the major cities, we can get a decent amount of check-in's, likes, and consumer-generated data points from social media. We can do a lot of rich data classification work on specific neighbourhoods that we were not able to do before.'
Obstacles are still in the way
The many obstacles in the way of its adoption counterbalance the excitement around the potential benefits of smart city technologies. High-speed fibre optic broadband, 5G networks, mass rapid trains, dedicated traffic lanes for buses and ride sharing, and an IoT network of connected sensors and devices are just a few of the costly items included in smart city infrastructure plans. In the long-term, the cost-saving is expected to far surpass the initial cost.  Yet as one IMA Asia Management Forum member remarked, 'The cost is high in order to get to the savings. The return is fairly quick, but most governments are elected every four years. You need to prove very early the return on investment.'
Public-private partnerships are necessary to kick-start the move toward smart cities. And, the seed money and government support is starting to come in. The ASEAN Leaders' Summit recently endorsed the ASEAN Smart Cities Framework in November 2018. Fraser Thompson, Director of AlphaBeta and an IMA Client Adversary Board member has found that, 'Every city mayor in the ASEAN smart city network aspires to come up with smart technology solutions for traffic, waste, energy, etc. The new technology solutions really intrigued them.  Many are ready to take that first step.'
What is a smart city's value?
For many people outside of ASEAN's capital cities, 'smart cities' is an unfamiliar term.  It doesn't have much direct relevance to their own lives. One IMA Asia member said to the group, 'In Jakarta I can put a tablet at the front desk of a restaurant, take orders online and someone will fill the order. All of that is familiar in Jakarta or in Bangkok, but it is not easy to explain in the smaller cities. They wonder why they need to do all of this. Their business is based on cash. If you can show them the value, they will do anything it takes to get that value.  They're not interested if it is just about technology.'
As a result, demonstrating the value of smart cities technology is critical to building support for smart cities.  An IMA Asia member argued that, 'If you don't educate people on the benefits of smart cities, you will never get them to support it. You need to show the savings from delivery, from taxes, and how it will lead to better education. We in industry need to raise the level of education in a positive way to change our communities. That should be our goal.'
Click on the 'Deep Read' button to read more about smart cities in Southeast Asia.
To learn more about IMA Asia's memberships, click here or contact us at service@imaasia.com.