Forecasts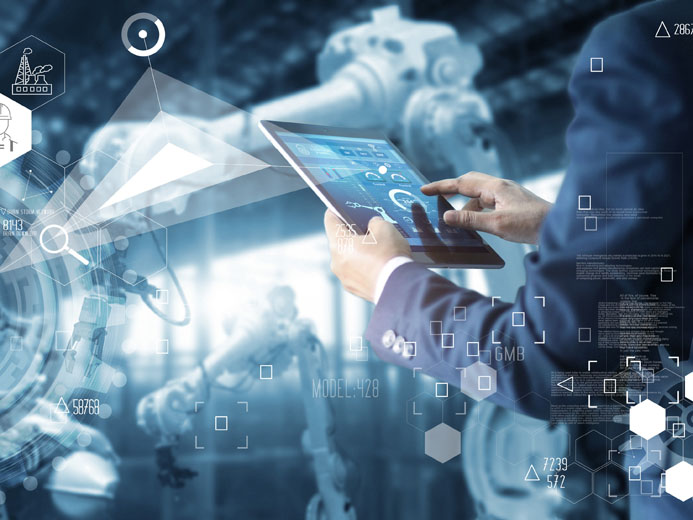 The IMA Asia ASEAN Demand Watch reports look at the latest trends in specific industrial sectors across ASEAN. Our reports combine insights from three sources:
Interviews with IMA Asia Forum members
Relevant articles from news media
Trends and macro data observations.
Intercedent Asia, IMA's research sister firm, produces the ASEAN Demand Watch and joins the IMA Asia team in carrying out interviews with Forum members. We've asked the team to look beyond the normal consumer demand indicators we track. The Demand Watch highlights useful insights from the press and various consultancies. The summary below reveals some of the key insights from our 24-page report on ASEAN's manufacturing industry.
2019 has been a bad year for global manufacturing and no less so in Southeast Asia. The pain for ASEAN's factory sector is apparent in the region's contracting Purchasing Manager's Index (PMI) and falling prices for manufactured goods.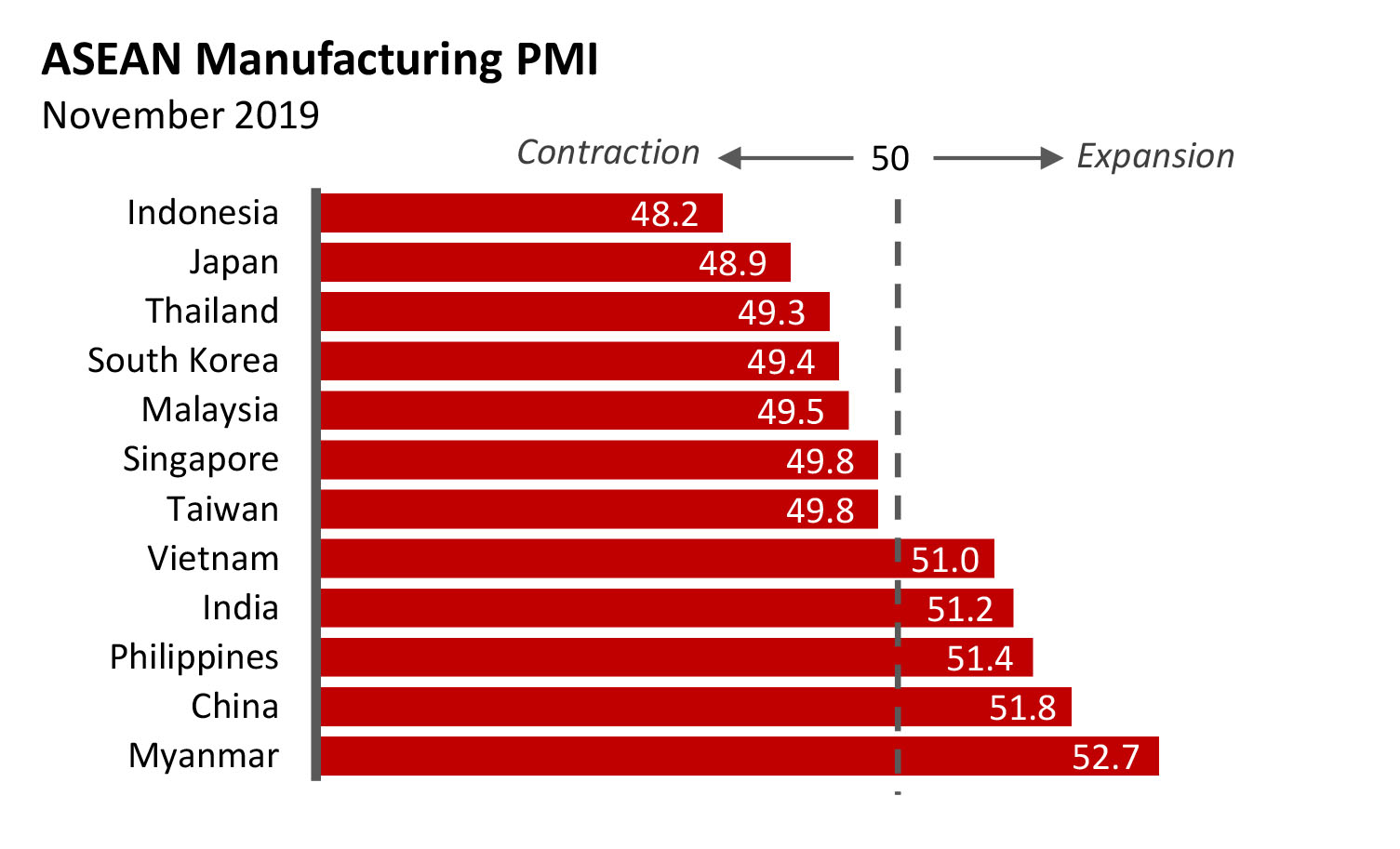 Three broad trends were apparent this year.
Most of the big exporters of manufactured goods were close to, or in, a manufacturing recession.
Domestic demand helped in the more closed economies, such as Indonesia and Myanmar.
Vietnam was the big export winner from companies moving production for the US out of China.
Exporters in recession
Since mid-2018, the major ASEAN exporting countries have experienced slower export growth. Only Vietnam can claim to be a net beneficiary of trade and investment diversion from the US-China Trade war.
Focused on China, Washington's tougher stance on trade policy has seen its trade deficit with ASEAN widen. Within ASEAN, Vietnam is the clear winner. A trade deal with China may prompt the Trump administration to train its guns on Vietnam. Washington has threatened punitive action against Vietnam for several months, unless it buys more from the US. US imports from Vietnam (Jan-Sep '19) are up by a third, blowing out the bilateral trade balance. Vietnam is buying more US commercial and defence goods, but its trade surplus with the US will keep rising as more factories relocate from China.

Promising 2020 Outlook
The outlook for 2020 is better. The big downturns in automotive and electronics appear to have eased in the last quarter of 2019. While automotive may be flat in 2020, electronics looks set for a multi-year recovery. The last few months have also seen a sharp lift in foreign investment into manufacturing in Malaysia and Thailand, so these two may join Vietnam in winning production that is exiting China. Political issues in 2019 that delayed infrastructure spending in Indonesia and the Philippines, and thereby hurt industry, are also behind us.
Key Developments
ASEAN
China investment flows to ASEAN amid trade war. ASEAN could gain from the US-China trade war. A survey showed that almost 25% of US firms in China claim that they plan to relocate manufacturing facilities to ASEAN.
Indonesia
Bankers hopeful that tax, interest rate cuts will rejuvenate Indonesia's manufacturing. Aggressive cuts in the benchmark interest rate and a planned reduction in corporate income tax may provide a much needed boost to Indonesia's poorly-performing manufacturing sector.
Malaysia
Malaysia aims to be Southeast Asia's Industry 4.0 hub. Prime minister Mahathir expects digital transformation to accelerate a sustainable Industry 4.0 future, spurring productivity and employment gains.
Philippines
Philippine manufacturing growth recovers in October. In ASEAN, only the Philippines and Myanmar posted improved PMI in Oct '19, bucking the downward trend in most other Asian countries.
Singapore
Singapore's factories show signs of recovery. October saw industrial production (excluding the large and volatile biomedical sector) return to a weak 0.2%yoy expansion as the electronics sector recovered from a deep seven-month plunge. Production of semiconductors declined, but the drop, at 0.9%, was much smaller than the 12.7% contraction recorded in September.
Thailand
Thailand offers 50% tax cut for manufacturers leaving China. Thai authorities are jockeying for foreign investment against its neighbours as the country seeks to move its manufacturing sector into higher-value activities.
Vietnam
Vietnam's labour cost advantage shrinks. For manufacturing workers, labour costs in Bangkok were 2.4 times higher than in Hanoi in Jan 2014 according to JETRO, and Kuala Lumpur's were 2.8 times higher. By Jan '19, this gap narrowed to 1.9 times for both cities. When taking Vietnam's weaker infrastructure into account, Vietnam is becoming a harder sell.
IMA Asia members can download a full copy of the latest ASEAN Demand Watch report by logging in to the Members Area and selecting ASEAN Demand Watch – Industry. All of the Demand Watch reports are available to IMA members only.
To learn more about IMA Asia's memberships, click here or contact us at service@imaasia.com.