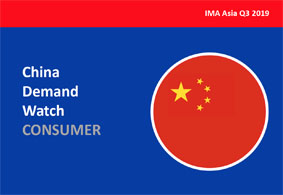 China Demand Watch
The IMA China Demand Watch looks at the latest trends in specific consumer and industrial sectors in China. A synopsis of some of the key insights from the report is available here – China Demand Watch.
The report combines insights from three sources:
Interviews with IMA Asia Forum members
A summary of relevant news
Trends and macro data observations
Intercedent Asia, IMA Asia's research sister firm, produces the China Demand Watch and joins the IMA China team in carrying out the interviews with Forum members. We've asked the team to look beyond the normal consumer demand indicators.  The report  we track, and to highlight useful insights from the press and various consultancies. The IMA China team is developing a stream of meetings for consumer firms.  The meetings stimulate fascinating debates from industry peers.  Our great invited guest commentators provide analysis of the latest trends in consumer markets and corporate strategies.
IMA Asia members can download a full copy of the latest China Demand Watch report by logging in to the Members Area and selecting China Demand Watch. The China Demand Watch is available to IMA members only. Enquire about peer group membership to receive the periodic China Demand Watch and join the discussions of Forum members.