Strategy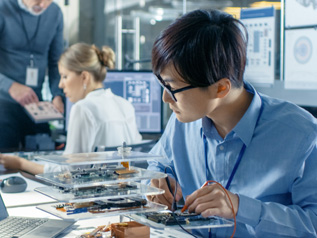 It's no surprise, that global corporations are seeking fresh ways to engage with Chinese entrepreneurs and tap their innovative spirit. After all, Chinese start-ups have excelled at process and service innovation. Many Western MNCs have found it is not money that attracts these entrepreneurs to form partnerships. If a true 'value exchange' is achieved, both start-ups and corporates prosper.
To think outside the box, think outside your walls
Members of IMA Asia's China Management Forum recently discussed how Western MNCs are moving aggressively to tap Chinese expertise and entrepreneurial spirit. They are establishing global R&D hubs, venture capital funds, university research partnerships, innovation centres, and the latest addition, corporate accelerators. It is time to be a proactive participant in China's innovation ecosystem if China is top market.
During the past decade, numerous Western MNCs have established R&D centres in China, primarily to service the China market. Now, they are taking a more global approach and focusing on accessing external resources. MNCs are setting up incubators to support start-ups over a longer time period. Corporate venture capital funds invest in start-ups in exchange for equity. But unlike private capital venture funds, they prioritise strategic value over financial returns. Both incubators and corporate venture funds offer ways for corporations to develop a network of innovators.
Cultivating fresh and diverse perspectives

Corporate accelerators help ramp up early stage ideas to be ready for venture funding. Accelerators leverage outside experience to hasten a start-up's growth. What might take two years takes three months with the help of an accelerator. Accelerators seek projects that work in the intersection of a business's core strengths. A firm with three core business units set its accelerator strategy to look for businesses that are in the cross section of these areas, 'to look beyond and between the sectors.'
The company hired a cross-section of ten experts with entrepreneurial, finance and scientific backgrounds to run the accelerator. A senior executive of the company explained, 'We hired a diverse team of agile thinkers, fast learners who are able to experiment. You do not need to hire people with direct experience. In an accelerator, an open mindset is more crucial.'
From inside the corporation, the accelerator recruited business unit heads and functional experts as members of the selection committee and as coaches and mentors. The firm felt that the accelerator needed to involve internal resources, yet also remain separate from core activities. Moreover, a direct channel to top decision-maker is essential in order to circumvent traditional pressures and the deadly trap of risk-adverse or slow decision-making.
There are more ways than one …

Companies are using a broad range of programs to cultivate innovation. In addition to corporate accelerators, other programs that executives discussed during the IMA Asia meeting included:
Innovation hubs
Incubators
Corporate venture capital funds
Employee start-ups
Academic partnerships
Student engagement
Click on the 'Deep Read' button to read more about how companies are tapping China's innovation and entrepreneurship.
To learn more about IMA Asia's memberships, click here or contact us at service@imaasia.com.