Forecasts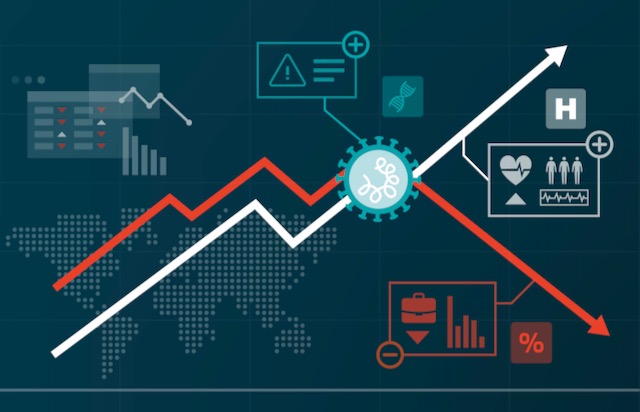 China's latest virus outbreak (named COVID-19 by the WHO) has everyone scrambling to redo their forecasts. The outbreak clearly is a headwind for global growth in 2020. Under our current virus scenario (i.e., a three-week shutdown in China with limited contagion elsewhere), there are two challenges:
China's prominence in the global growth calculation. China accounts for 17% of the global economy (up from 5% during SARS in 2003) and has delivered 20-30% of global growth in recent years.
The knock-on impact on global manufacturing and tourism. Manufacturing may see a weak first half of the year, with some recovery in the second half. However, tourism is likely to have a tough 2020.
The WHO's comprehensive reporting and our own China CEO Forum has helped form our assessment. IMA Asia has formed a WeChat group of 100+ members who are exchanging hourly insights into the struggle to restart operations. We are also holding video catch-ups with China CEO forum members at the end of each day.
At this stage, the main challenge for countries is the containment effort rather than the virus. Fortunately, the containment efforts have been extensive, particularly in China. Since China is now a major supplier of demand (including tourists) and goods to other countries, what happens in China will have a significant flow-on effect on other countries in the Asia Pacific region.
China slowly opening up for business
The restart after Chinese New Year (the closed period was Jan 24 to Feb 9 – 17 days) has been slow, as firms wait for a web of restrictions at all levels of administration to be eased. School closures until the end of February (meaning one parent needs to stay home) and shortages of drivers are typical problems that slow a re-start. It may take until mid-March for 90%+ of China to return to normal operations. Companies may need a further month (to mid-April) for inventory and shipment levels to recover. If a rapid virus spread starts outside of China, then our next forecast update will need to build on a second and more damaging virus scenario.
Richard Martin, Managing Director of IMA Asia recently appeared on CNBC. He explained what is the initial impact of the virus on business in China. You can view the interview here – Coronavirus could keep Chinese firms shut until early March, says analyst
In December, we forecast that GDP growth for the 14 major markets of the Asia Pacific region would lift to 4.4% in 2020 from 4.3% in 2019. Under our current COVID-19 scenario, we've cut 2020 growth to 4.1%. Our outlook for 2021 has also dropped from 4.6% to 4.3%. Most of the drop is due to a lower forecast for China –5.7% for 2020 and 5.6% for 2021. China's trade and tourism linkages with most Asia Pacific markets led us to trim growth in manufacturing and services across the region. We have also dropped Asia Pacific's export growth forecast to 1.9% for 2020, from a prior 3.4% (nominal US$ basis). We are still expecting a global electronics recovery to lift Asia's exports this year, after a fall of 1.9% in 2019.
Those closest to China will experience the hardest hit
Countries with close trade, manufacturing, and tourism links with China should receive the hardest hit from the coronavirus outbreak. Japan's 2020 GDP growth rate should reach only 0.2% (prior 0.4%); we expect Vietnam's growth to drop to 6.1% (prior 6.9%); Singapore will most likely drop to 2.1% (prior 2.4%); and Thailand may tumble to 1.8% (prior 2.4%).
In addition, growth in two countries will go down sharply due to domestic problems. Hong Kong will have to gird itself for a projected 2.4% decline in GDP (the prior estimate was -1%) as the virus has exacerbated its political and economic problems. India's balance sheet recession got much worse at the close of 2019. Consequently, we have cut the 2020 forecast to 5.1% (prior 6%).
Bullish outlook for three outliers
Three countries should buck the downward trend: Australia, New Zealand and Indonesia. A housing recovery is underway in Australia and the GDP growth projection has increased to 2.2% (prior 1.9%). Much the same is going on in New Zealand, where we now expect growth to reach 2.8% (prior 2.6%). Indonesia's forecasted growth rate remains unchanged at 5.2%. A recovery in government spending is expected, and Indonesia's reliance on China is low.
Our iconic Asia Brief provides a monthly snapshot of the latest, key economic and political developments in 14 Asia Pacific markets. IMA members can download a full copy of the latest Asia Brief by logging in to the Members Area and selecting 'Asia Brief'. The monthly Asia Brief is available to IMA members only. Non-members can read a sample issue by clicking here.