Market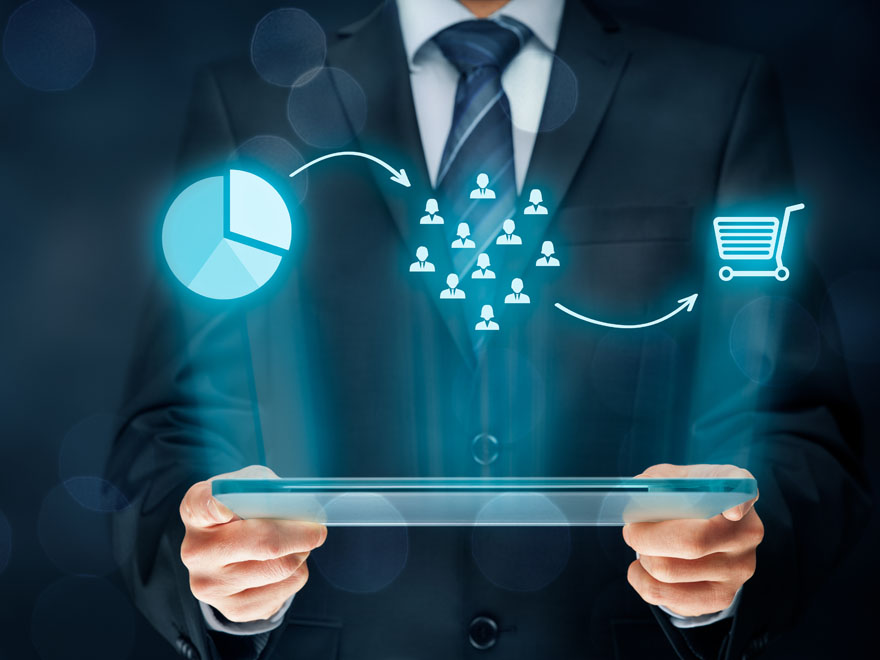 B2B e-commerce and virtual selling were gaining traction well before the lockdown but the experience during the pandemic has accelerated the trend towards digital sales. At a recent IMA China CEO Forum, a member with long experience in the e-commerce sector commented,
'In a recent survey, 50% of B2B sales interactions were virtual even before the pandemic due to faster communication and cost effectiveness. Eighty percent of buyers and sellers believe there will be a sustained increase in virtual interactions after the crisis.'
While B2B e-digital sales are still at the starting line with 3% to 5% market penetration, it is taking off at a moment when customers are widely accepting personalised virtual sales.
The virus prompts more digital sales
Covid is leaving its mark on e-commerce by elevating personal human contact in the virtual world in ways that are uniquely suited to B2B sales. B2B salespeople have found that they can use virtual calls efficiently to make a sale. With costly and time-consuming travel no longer possible, virtual calls allow for effective communication. A senior executive told of his own positivre experience with virtual meetings,
'Our interaction with customers accelerated during the lockdown. Zoom calls enabled fast exchanges, and responsive problem-solving that turned into closer customer relationships.'
Distributors also are going digital during lockdown. One distributor has use TikTok creatively to improve customer service.

'Our distributor has a TikTok/Douyin accounts. They take videos to show customers how to install the equipment or to train their staff. The challenge is how to integrate our marketing activity program with these small accounts, which are driving traffic locally.'
Going digital is not all smooth sailing
Virtual selling, whether via an e-commerce platform or sales-led Zoom calls, works best when a seller has already established a relationship with the buyer; such efforts may fall flat when attempting to convert prospects to actual customers.

'We found that virtual meetings, instead of travelling, work well when we have an existing relationship. For gaining new clients, virtual calls can be awkward, especially when cold-calling someone.'
Effective e-commerce also requires efficient and fast back-end systems, but connectivity issues hobble global ERP platforms. Furthermore, being compliant with China's cybersecurity regulatory regime is a wedge driving MNCs away from systems that work elsewhere. One CEO grumbled that,

'Our HQ often want us to use global platforms, but we're faced with a number of situations in which we cannot take data out of China. Cybersecurity laws basically say that we have to create an independent system. Ultimately, it is a compliance issue, and I am not going to break the law.'
Just as the government is regulating data more carefully, it is becoming easier to collect data. This raises the question about what data is genuinely needed for marketing, sales and technical support.

'We have hundreds of millions of loyal customers. We need reasonable data parameters for what we need to know to keep customers happy and buying more. We struggle with being prudent, but also being quick to collect the data and monetise it before somebody else does.'
The local workaround
For some firms, taking advantage of China's tech platforms is the way to be compliant or overcome poorly performing global options. Not only are such platforms better suited to the China market, getting your business up and running on the platform can be done more quickly and at a lower cost than on global systems.

'To be effective in China, we localise and avoid a "one size fits all" global approach. If we can customise our product, why can't we customise our data? Chinese digital talent can be lightning fast. Often HQ wants to hire people in Poland or India, but they can't deliver as local talent can.'
The downside of a local technology solution can be a loss of control that opens your system to vulnerabilities or complexities that are hard to manage.

'Too many systems can lead to black holes, and then grey areas pop up. Over time, corporate governance issues crop up between the China office and HQ.'
Click on 'Deep Read' at the top of the page to learn more about how B2B businesses are accelerating their adapatation of digital tools as a result of the pandemic.
To learn more about IMA Asia's memberships, click here or contact us at service@imaasia.com.