Market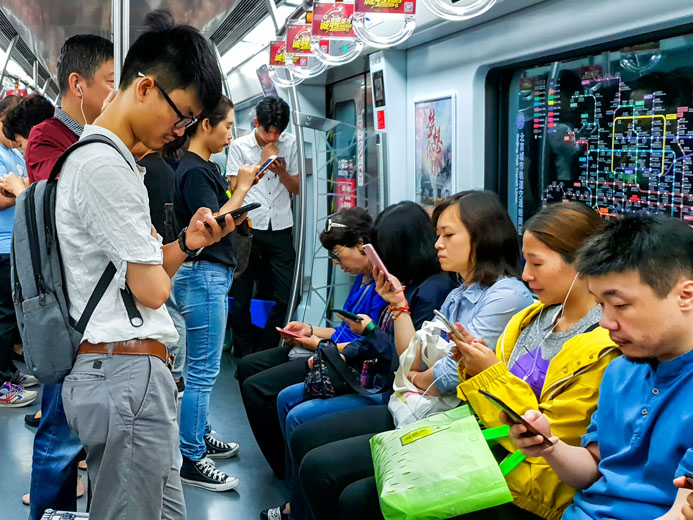 A new breed of Chinese consumer brands has hit the ground running with a digital-first, consumer-centric approach. They hook consumers with always-on digital conversations, camera-ready packaging, and fast-paced product launches.
Their secret is a new twist on the marriage of social media and e-commerce. It is as if multi-level marketing (e.g., Avon, Amway) and infomercials (e.g., Home Shopping Network) had a digital-native baby. The result is an innovative use of today's platform technology that provides a glimpse into the future of e-commerce.
Growth-first mindset
Digital platforms proved scaling fast for maximum market share can be a winning strategy, even if it means burning through cash. Yet, few consumer goods brands have been able to do the same.
That is until the last few years when Chinese disruptors began to leverage advances in social e-commerce to engage today's always-on Chinese consumer. Selling 'analogue' products has not stopped these disruptors from thinking and behaving like a digital company. Many have grown so fast they have taken foreign competitors by surprise.
Splashy products, speedy launches
What sets this new breed of disruptors apart is their fresh take on digital marketing. Yet, no amount of marketing can overcome shoddy products. Chinese disruptors offer products with a unique value proposition.
For example, Saturnbird uses high-quality beans that are 100% natural and certificated by the relevant US and Chinese authorities. Their highly soluble coffee powder beats the competition by instantly dissolving in cold water or milk, a critical preference for Chinese consumers. Genki Forest offers naturally flavoured, zero-calorie beverages in a modern package. Soda brands have tried the same approach, but Genki Forest has overcome competition to be a preferred choice.
Digital first in every way
Much like the consumers they target, these brands are digital natives. Their business models are digital-first in several ways.
Data driven platform
A data-driven platform design enables digital natives to derive insights from an army of key opinion consumers (KOCs) and key opinion leaders (KOLs). This allows them to deliver products at a pace legacy players struggle to match.
Always on communication
'Always on communication' is part and parcel of a two-way dialogue that is essential to their business model. This requires a 24-hour commitment and constant monitoring of negative and positive mentions in a digital environment. A commentator at a recent IMA China CEO Forum remarked,
'Local disruptors outshine their competitors in terms of the quality conversations their brands have with consumers.'
Influencer pyramids
Influencer pyramids drive this communication with consumers in many ways. At the top of the pyramid, a handful of celebrities drive consumer trends toward the company's products. In the middle of the pyramid, KOLs, who have far fewer online followers than celebs but have the talent, time, and leeway to produce content, concentrate on niche product categories. KOCs – the foundation of the influencer pyramid – set the 'always on' digital disruptors apart from traditional brands. An individual KOC – a knowledgeable consumer keen to share product knowledge – can reach 20,000 to 100,000 followers.
Private domain traffic
Millions of conversations are generated with private domain traffic by pooling consumers into WeChat discussion groups that can be mined for data. Private domain traffic is the antidote to e-commerce platforms that effectively disintermediate brands from their public. Through these chats, brands get closer to their consumer.
'The people who buy the product also sell the product. Consumers share feedback on the product on review pages and social media. Consumers refer to what others are saying before making a decision. This elevates the consumer's voice.'
Disruptor brand design
Disruptor brand design stands out on small screens of mobile phones and are worthy of talking about on social media. For example, Saturnbird packages its instant coffee in mini, take-out cups with catchy slogans. Young consumers eagerly share their cups repurposed as artwork, key chains, and even plant pots.
'The packaging and the product need to have a secret formulation or surprising element. Just selling random products in fancy packaging will not work – many brands have tried and failed.'
Collaboration
Collaboration with outside parties generate excitement for new products. A strategy that has long been successful in streetwear can bring 'energy' to more pedestrian product categories. Saturnbird aggressively seeks out IP collaborations with hot new brands and designers. Every three months, they launch a product collaboration that is a win-win for them and their partner, such as with Japanese anime creators.
Click on 'Deep Read' at the top of the page to read more about how China's 'Always-On' Digital Disruptors are impacting consumer marketing strategies in China.
To learn more about IMA Asia's memberships, click here or contact us at service@imaasia.com.