Market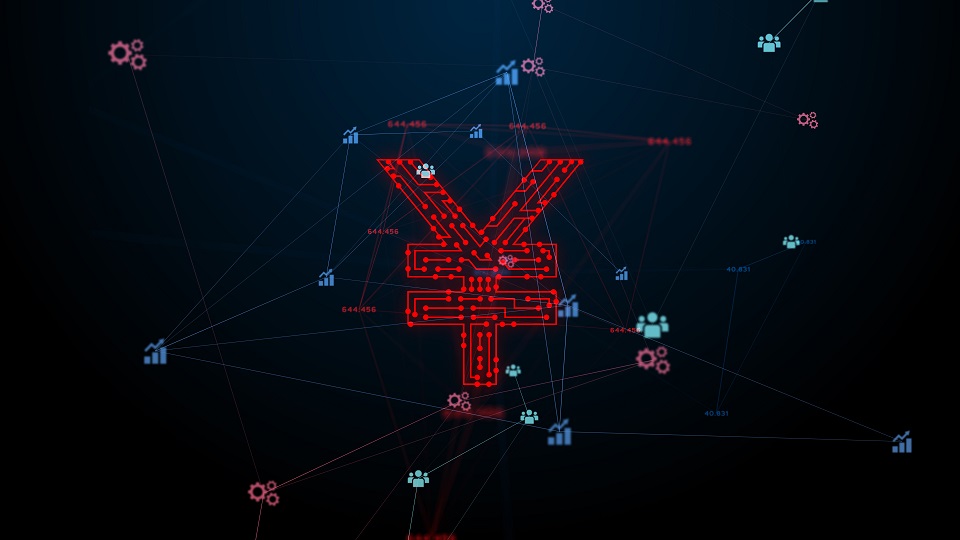 Perhaps no other society in the world is as primed for digital currency like China. Before the advent of digital currency, Alipay and WeChat Pay had already made mobile payments ubiquitous and easy. It's not a surprise, then, that China is blazing trails as the first country to pilot a digital currency, commonly referred to as the digital renminbi or the e-yuan.
China has forged ahead on supply chain financing which uses blockchain-encrypted financial tools to facilitate payments. The data and permissions embedded in the blockchain enable smaller firms to use their accounts receivable as collateral for loans.
E-yuan is not crypto
E-yuan are the same as any yuan, but blockchain-enabled. China's sovereign credit and economic strength back the e-yuan. A digital currency, such as the e-yuan, is known as a 'Central Bank Digital Currency' – CBDC.
Although CBDCs use cryptography to encode data in a blockchain, the similarity to cryptocurrency ends there. The e-yuan, unlike cryptocurrencies, is not a way to make a speculative investment since its value is directly linked to the yuan and backed by the Chinese government. A professor of finance explained at a recent China CEO Forum meeting that,
'Cryptocurrency is decentralised and does not have any fundamental value other than scarcity. It is an asset without any cash flow or future dividend. Investing in crypto is speculative and is a form of gambling.'
Although the blockchain technology behind China's e-yuan and smart contracts are similar, China's e-yuan facilitates payments while smart contracts are applied in various uses in supply chain finance. (See IMA paper on How Blockchain Can Boost China's Supply Chain).
MNCs are not the target audience for the e-yuan
Since large corporations seldom deal in cash, the e-yuan will not impact how MNCs handle payments. Electronic bank transfers already are the most common means of exchange for law-abiding firms. The digital yuan is focused on solving domestic concerns. It mainly benefits small retailers and detects money laundering, tax evasion and other illegal transactions.
However, once the use of e-yuan becomes prevalent, it could bring systemic benefits to corporations. As one IMA member commented during a session,
'Company-wise, I only see benefits to the e-yuan. It could make the system more transparent and make taxation, invoicing, compliance, and legal issues easier. In addition, transaction costs should go down, which will save human resources.'
Money laundering and making cash obsolete
The e-yuan, if implemented well, could go a long way in reducing the use of cash and render money laundering much harder.
'Digital technology helps maintain a balance between the anonymity of the digital RMB and the detection of money laundering or illegal transactions. We can trace the unique digital footprint as funds travel from account to account.'
At the same time as the government is trialling the e-yuan, they have also reduced the daily limit for cash withdrawal from CNY500,000 to CNY50,000 to constrain the use of cash further. However, cash will always have a place in the system and is unlikely to be phased out anytime soon.
'Why would anyone need more than CNY50,000 in cash? Even if you want to buy a big TV or a luxury car, everyone has access to digital payment. So, it is hard to justify the need for so much cash unless it is for an illegal transaction.'
E-yuan: a work in progress
The People's Bank of China (PBOC) has been researching a digital yuan since 2014 and established a Digital Currency Research Institute (DCRI) shortly after. It will take several years before the public can use digital yuan nationwide. Because everything is digital, the security and the reliability of the system are key issues.
'The PBOC and the DCRI are doing extensive trials and testing to assess the security and reliability of the network. Faked e-yuan and frauds have already begun popping up, even as people are just learning about what digital RMB is all about.'
IMA Asia members can log in to download and read the full paper on 'China Moves Ahead with Digital Yuan.' To learn more about IMA Asia's memberships or subscribe to our 'Asia Forum Notes' or 'China Forum Notes', contact us at service@imaasia.com.