Leadership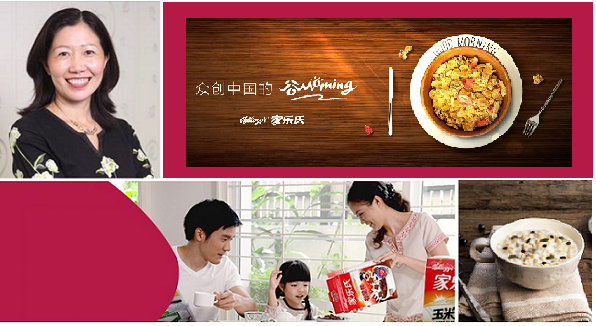 In CEO Dialogues, we spoke with China CEO Forum member Haiyan Wang, Managing Director of Kellogg China, about success in China and delivering products highly-tuned to local tastes.
Below is an excerpt of this interview.
The traditional Chinese breakfast, if you encounter it for the first time as an adult, can be a bit surprising. It tends more towards savoury flavours than it does to sweet. There are steamed buns, youtiao or fried oil sticks, deep fried eggs and congee with dried fish, pickled vegetables and shredded pork. But just like breakfast anywhere, it is the ultimate comfort food for those who have enjoyed it since childhood.
Haiyan Wang, Managing Director of Kellogg China, is hoping to broaden that list of choices by bringing what she refers to as 'culturally relevant food innovation' to the Chinese breakfast table. It won't be enough for Kellogg, the world's leading cereal maker with brands such as Special K, All Bran and Corn Flakes, to rely on their 110 years of experience.
Success in China will depend on a set of factors, the most important being delivering on deep insights into Chinese consumers. 'China is much more open now, digital information and e-commerce have broken down borders; people are looking for something different,' she says. 'This is a good time for us to leverage our category expertise and understanding of the local market to bring a fusion of East and West that is relevant to China.'
Wang is uniquely well placed to do this. Beijing-born, she racked up 15 years' experience working in food marketing in the US before coming to China, where she managed the successful roll-out of Kraft's Oreo cookies across the country.
Making inroads into the breakfast market will not be easy. It is not that Kellogg is facing stiff competition from other cereal makers, though other brands are here. The real issue is informing new consumers about the value of cereal. 'We use social media to educate consumers about the great taste, the nutrition, the convenience, and the versatility of cereal,' says Wang. 'Cereal with milk is a leading source of 10 essential nutrients and vitamins that a healthy diet needs.
Not only can you consume it on different occasions throughout the day; we say, there is only one way to eat your cereal that is your own way. You can have it with milk, no milk, or soy milk. You can add it to congee, or add it to your noodles or ice cream. It can be an ingredient in a sandwich or a jianbing (a Chinese crepe).'
The next step in their localisation strategy has been to develop a new granola product just for the China market. Called 'Gulan Nuola' in Mandarin Chinese, it conjures up the image of an elegant Tang Dynasty lady and is phonetically similar to the word for granola (the name in English is 'Tasty Delight'). Unlike your average granola box, covered in sunny earth tones harkening back-to-nature themes, the Tasty Delight box is a shade of purple more classically associated with femininity.
CEO Forum members can read the full interview and magazine via login
Lean more about IMA Asia's memberships here or contact us.